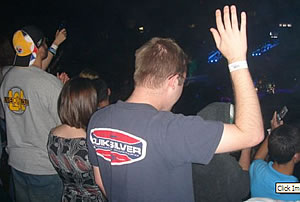 Live Out Loud (lív-out-loud):
It's not just a catch-phrase. It's a directive. It's a way of life.
God did not intend for his people to sit idly by allowing life to go on around them. God is not satisfied with our complacency. We were placed here to make a difference!! To change lives!! How can we accomplish that in silence??
STAND UP AND BE HEARD!!!
The teenagers of Fayetteville Community Church invite you to join them and to stand strong. We are standing against declining moral values. We are standing against the idea that all religions are equal and all must be accepted. We are standing against the idea that there is no absolute truth…no absolute right or wrong!! God's children have been [silenced] long enough. It is time to stand up and proclaim what we know to be true. It is time to rise and proclaim the name of Jesus, the one true God and King!! You are not alone. Come and join with other teens just like you, teens that are seeking God.View the verse of the day below:
Website Design by 4 Him Web Design